Going Digital: Intraoral Scanners
Digital Impressions
Natural Esthetics is proud to implement new technology in the production of our restorations allowing far greater, more precise possibilities! We accept all STL files and can work with a variety of different scanning systems. Scanning can not only help improve the accuracy and precision of each restoration but, there's no guess work involved. Doctors see the same things the lab sees to easily communicate about necessary components for each individual restoration collaboratively. We work with many different types of milled materials to give your patients the best and most esthetic restorations no matter the obstacles. Ask one of our lab technicians why you should go digital or send in your own digital case today!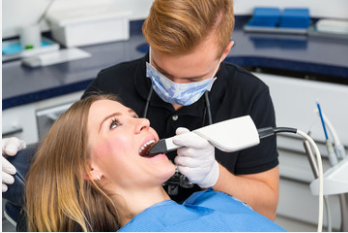 Scanning made easy: Omnicam
Powder-free scanning, unrivaled handling and precise 3D (full-jaw) scans in natural color! With its sleek design and light weight, the CEREC Omnicam naturally fits in your hand, making the scan as easy, intuitive and ergonomic as ever before. In addition, the CEREC Omnicam allows you to determine the color of the scanned teeth in the CEREC software based on your scan, and also allows you to expand your treatment spectrum to aligner treatment. This makes the CEREC Omnicam a unique multitalent and offers you everything you need for your safe step into Chairside CAD/CAM.
Redifine your standards: Prime Scan
Primescan is your perfect starting point into digital dentistry. No matter how you would like to design your workflows, Primescan is the enabler for efficient digital workflows – both chairside in your practice and with Natural Esthetics in the lab. Primescan focuses on modern design with modern features. With the innovative Smart Pixel Sensor and the dynamic depth scan technology for perfect sharpness, even in up to 20mm depth. Due to seamless, validated and open data transfer options, labs are supplied with high resolution models at an instant. The increased field of view visualizes larger areas with less sweeps and immediate precision. Chose from a variety of sleeves to help keep your office free from infection.
3Shape Trios Intraoral scanners
Whether you are new to digital dentistry and looking for a scan-only solution, or fully digital already and up for the next step, the TRIOS family of intraoral scanners lets you do more – from wireless scanning to caries detection aid. Their entry-level model TRIOS 3 Basic allows you to start with scanning and sending to Natural Esthetics. With TRIOS 4, you can go all-in and explore preventative care possibilities in addition to all their established technology. Our latest Artificial Intelligence (AI) technology makes scanning easier by removing unnecessary soft tissue as you scan. There is statistically higher accuracy for TRIOS compared with conventional impressions and/or impressions made with other major intraoral scanners for full arch, single unit and multi-unit restorations. To perfect your restorations, TRIOS Patient Specific Motion lets you record a series of different bite positions and highlight occlusal contacts for dynamic patient specific articulation. Create high-quality digital impressions in lifelike colors and apply shade measurement to evaluate treatment and activate quality dialogue with patients.